What's happening at Stark Road Gospel Hall? We're glad you asked! Please click on an event below or scroll to the Calendar to find out more.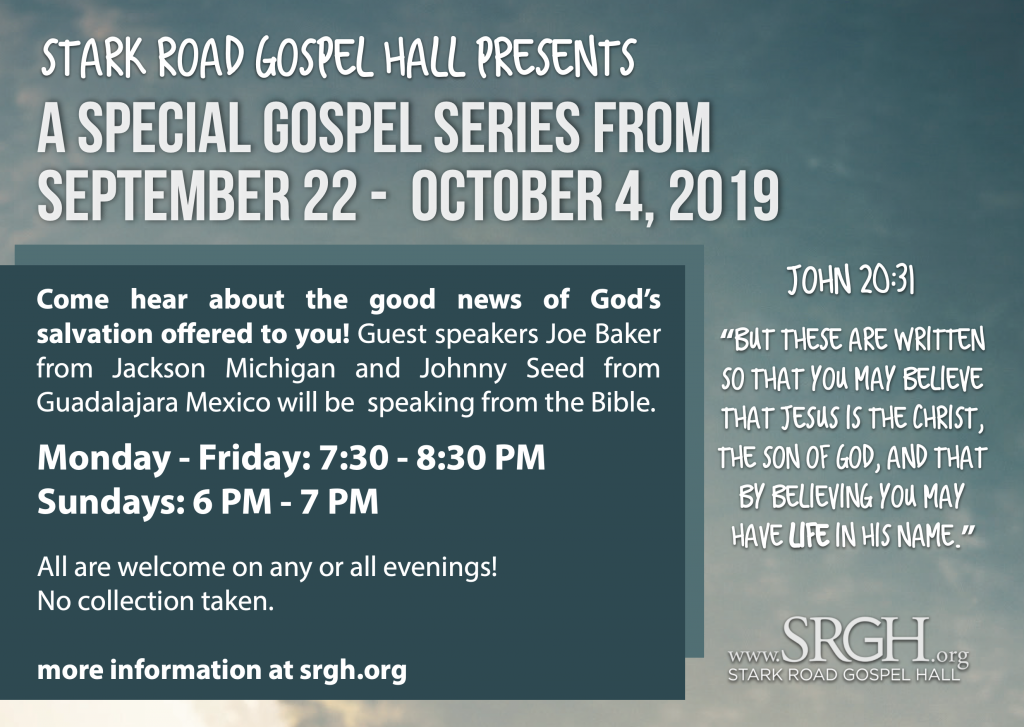 Please join us for 2 weeks of Gospel (Good News) Services as we explore the Vital Questions of life that deserve answers.
From September 22nd to October 4th, 2019
Our guest speakers are Joe Baker from Jackson, Michigan and Johnny Seed from Guadalajara, Mexico
Monday-Friday 7:30pm to 8:30pm
Sunday 6:00pm to 7:00pm
All welcome!
September

2019

Sun
Mon
Tue
Wed
Thu
Fri
Sat

1

The Lord's Supper

Sunday School (Stark Road)

Bible Teaching

Sunday School (South Lyon)

Gospel Meeting

• • • • •

4

Prayer Meeting and Bible Study

•

8

The Lord's Supper

Sunday School (Stark Road)

Bible Teaching

Sunday School (South Lyon)

Gospel Meeting

• • • • •

11

Prayer Meeting and Bible Study

•

15

The Lord's Supper

Sunday School (Stark Road)

Bible Teaching

Sunday School (South Lyon)

Gospel Meeting

• • • • •

18

Prayer Meeting and Bible Study

•

22

The Lord's Supper

Sunday School (Stark Road)

Bible Teaching

Sunday School (South Lyon)

Gospel Meeting

• • • • •

25

Prayer Meeting and Bible Study

•

29

The Lord's Supper

Sunday School (Stark Road)

Bible Teaching

Sunday School (South Lyon)

Gospel Meeting

• • • • •